Aging in Place Remodeling: Relocating the Laundry Room for Ease of Access
Previously, we spoke about aging-in-place remodeling as it relates to the bathroom. Today, we're focusing on how relocating your laundry room can also make staying in your home as you age easier. This involves more than a laundry room makeover, or a laundry room remodel.
It means moving your laundry room up in the world – literally. Many older homes have a laundry room located in the basement. That means a lot of carrying laundry baskets up and down stairs. That means an increased risk of falls.
And according to the Centers for Disease Control (CDC), an older adult 65+ suffers a fall every second of every day. Thirty-two million seniors are treated in the emergency room due to a fall. You can prevent falls by improving accessibility and safety by moving the laundry room to the main floor of your home.
Let's take a look at the top considerations for this aging-in-place remodeling project:
Location

Plumbing

Washer and Dryer

Sink

Counter Space

Laundry Room Organization

Lighting

Flooring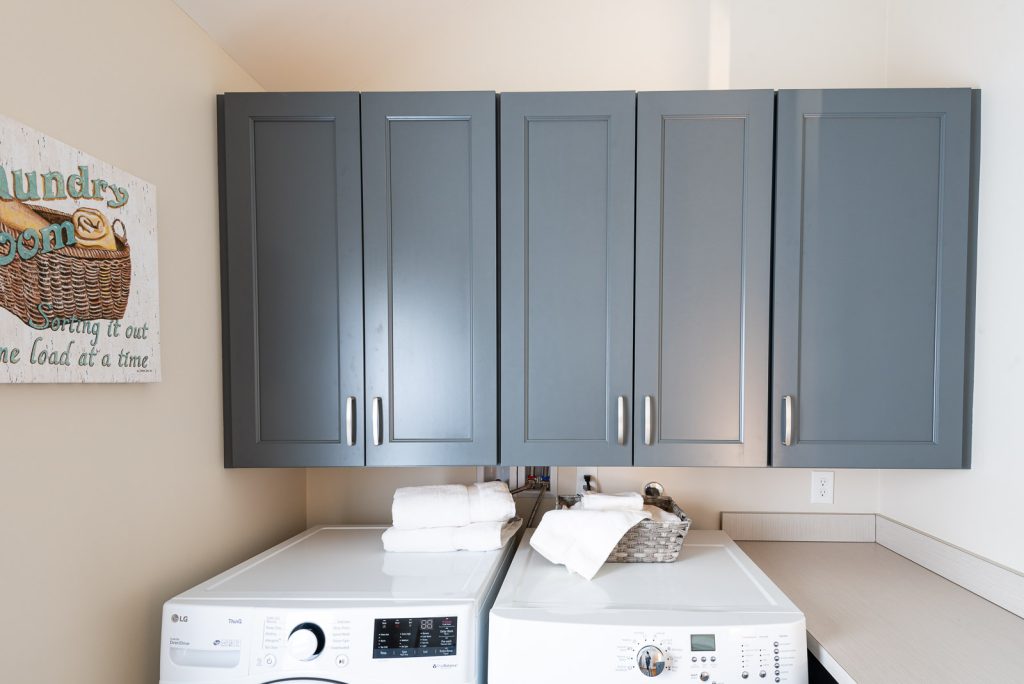 Location
There are many possibilities for relocating your laundry room to the main floor as part of aging-in-place remodeling. Depending on the size of your home, the laundry room could be off the kitchen, in the mud room, or even in a hallway closet. We suggest NOT locating the washer and dryer near bedrooms, as the machines can make a lot of noise.
If your laundry room is in a separate room rather than a small closet, ensure the entryway is wide enough to allow a wheelchair through. You may not need that extra space now, but it could be invaluable.
Plumbing
Plumbing and venting considerations are related to where you will locate your laundry room on the main floor. It will be easier and cost you less if you locate the washing machine along a wall with a water line going through it where your remodeling contractor can easily install the water supply and drain lines for the washing machine. You will also need access to an exterior wall to allow the dryer to vent to the outside.
Your remodeling contractor should discuss these issues when you schedule a consultation. Together, you will decide the best location for convenience and plumbing and electrical hookups.
The Washer and Dryer
Generally, a front-loading washer and dryer set is best for aging in place. This means you won't have to empty laundry from a top-loading washer and bend over to load the dryer. Consider spending the extra money to put your laundry machines on washer and dryer pedestals. Raising the machines to waist-height access means no bending. If mobility issues put you into a wheelchair, you can always put the machines back down on floor level.
Laundry Room Sink
A laundry room utility sink is not necessarily a must-have, but it can be very convenient for handwashing clothing, pre-treating, or bathing a small dog. Consider a sink that is wall mounted or provides roll-under access. This would allow you to sit in a chair or wheelchair and use the sink. Choose a faucet design with a lever handle and a sprayer option – much like you have at your kitchen sink.
Counter Space or a Folding Table
It's helpful to have counter space or at least a folding table to allow you to fold laundry with ease and comfort. Consider leaving a cutout area to accommodate a wheelchair in future years. Your remodeling contractor may suggest counters at varying heights to accommodate changing needs. Rods to hang clothing can be located at regular and lower heights for easy accessibility.
Accessible Laundry Room Organization Solutions
Laundry room cabinets and shelving can also help organize the room with space for laundry supplies, keeping the area tidy and free of clutter that could obstruct pathways. For easy opening, you'll want "D" handles on cabinets and drawers. Arthritic hands can have difficulty with knobs. An alternative to cabinets and drawers is open shelving – keeping in mind that you can see everything and not wonder where you put something.
Laundry Room Lighting
As with any area of your home, you need to consider proper lighting for good visibility and to minimize the risk of accidents.  A good aging-in-place design will have overhead and task lighting by the sink or under-cabinet lighting over the folding table. Light switches should be easily accessible, and touch or rocker switches. Consider labeling them if you have numerous lights to control. Your remodeling contractor can help make suggestions and run the necessary wiring to provide a well-lit area.
Laundry Room Flooring
Your laundry room flooring should be waterproof since washing machines leak. Non-slip vinyl tile or plank flooring is a good solution that still looks good and coordinates with the flooring in the rest of your home. The floor should also be free of trip hazards, such as electrical cords or area rugs.
A Project for All Ages
While we focused this blog on the benefits of relocating the laundry room for aging in place, it's a project for families of any age. Some homeowners tell us it's the most popular aspect of a major renovation. It's practical and makes your life easier whether you have small children or you're making changes to your home that will allow you to age in place.
Built the Right Way
With over 30 years of experience, fully licensed and insured, and a team ready to help you at every step, make your home truly yours with remodeling from RWC.