Find the Benefits of Aging in Place Remodeling
Your home is more than an investment – it's your sanctuary. Most people don't consider updating their homes until a medical emergency; they view remodeling as a solution to problems rather than a proactive step in securing a comfortable future.
By proactively making aging-in-place modifications to your home, you can create a safe and comfortable environment that gives older adults more independence as they age. Whether you want to make your home safer as you age or care for elderly parents, we have some great projects that will keep your home secure and let you enjoy it for many years to come.
Read our latest blog, where we focus on the bathroom remodel.
Benefits of Aging in Place Remodeling
The aging in place definition refers to the idea of staying in your home as long as possible as you grow older. It means making changes to your home so that it's safe and comfortable to live in as you face challenges with mobility or health.
Instead of moving to a place with increased care, you can modify your home to suit your changing needs as you age. Home modifications for seniors help you retain your independence and continue living in a familiar and meaningful place.
In addition to increased independence and improved well-being, aging-in-place remodeling is necessary. According to the American Society on Aging, people are living longer, and "most U.S. housing does not support extended longevity." In a good year, the housing industry builds about 1 million new homes in the U.S. – there isn't enough time to build new housing for all aging Americans. That's why aging-in-place remodeling is essential.
With the need for updating housing in mind, let's look at some aging-in-place bathroom remodel ideas that can help make your bathroom more accessible and safer as you age.
Door Widening
Many bathroom doors, especially in older homes, are not wide enough to accommodate a walker or a wheelchair going across the threshold. Widening the entryway will give you easy access no matter your mobility.
Walk-in Showers
First and foremost, the walk-in shower eliminates the need to climb in and out of a traditional bathtub, which can be challenging and risky for individuals with physical limitations. Instead, the walk-in design allows people to shower without obstacles, reducing the chances of slips or falls. Be sure to include a non-slip, textured shower floor.
Replacing your tub with a walk-in shower provides accessibility and safety, particularly for those with mobility challenges or who may eventually have mobility challenges. This bathing solution offers convenience and security, ensuring aging individuals enjoy showering independently and comfortably. You can install a shower with a small step or plan and install a larger curbless shower that can accommodate a wheelchair transfer.
Shower Seat
Having a place to sit in the shower provides an extra level of safety and convenience for anyone using the shower. It's good for balance or weakness issues, as well as shaving or sitting to bathe the dog. You can choose a walk-in shower design with built-in seating or add a portable shower seat.
These showerheads accommodate the varying needs and preferences of those with mobility challenges or limited reach. They can be easily moved up or down and tilted to different angles so you can customize the water flow and direction.
Handheld Showerhead
Adjustable handheld showerheads are especially beneficial for individuals with difficulty standing for long periods or reaching certain body parts. They are also helpful for rinsing a child's hair or bathing the dog. Consider getting a handheld showerhead that easily attaches back via a magnet rather than a clip, which can be tricky with arthritic hands.
Grab Bars
Bathroom grab bars for elderly care or those needing additional safety features are strategically placed to provide stability and support while moving in and out of the shower. They offer a firm grip and assist in maintaining balance, giving added confidence and security.
One or more grab bars strategically placed near the toilet can also assist someone with balance issues or weakened muscles to stand up easily after using the bathroom. A grab bar is much better and safer to use than grabbing a towel bar, for instance.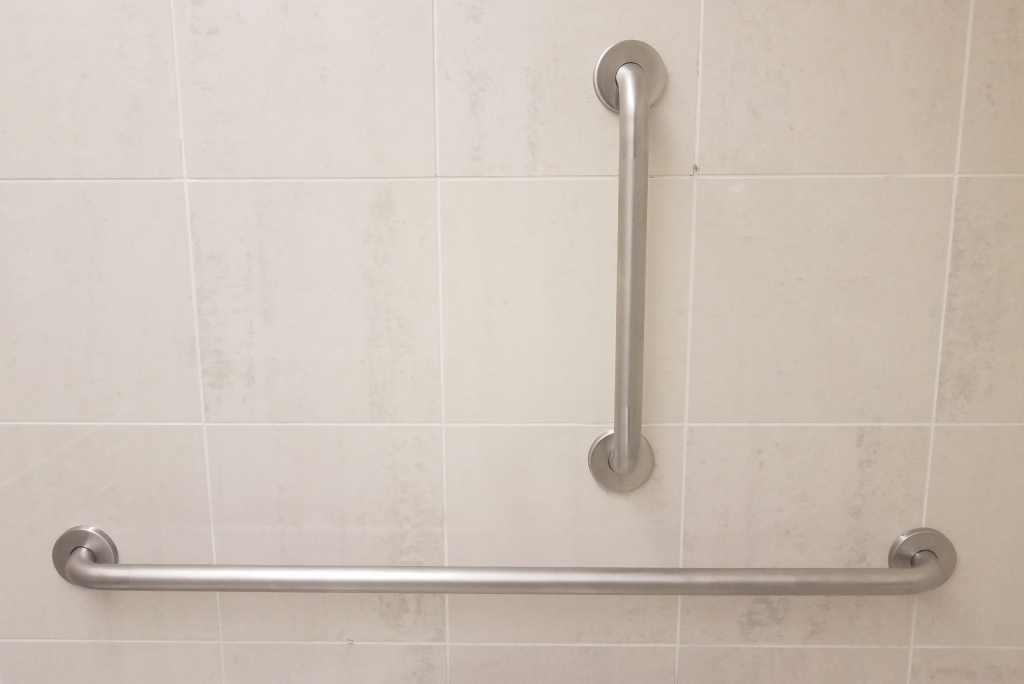 Comfort Height Toilet or Toilet Seat Riser
To make using the toilet easier and more comfortable, consider installing a comfort-height toilet. These are great at any age, except for a child's bathroom. Comfort-height toilet seats are usually 17-19" off the ground. Contrast that with a standard toilet, where the seat is typically 15" off the ground. Two inches may not sound like much, but it can make a huge difference for tall people or people who have difficulty standing up once they've sat down.
If you don't want to replace the toilet and need a temporary assist, toilet seat risers provide increased comfort and accessibility for older adults. They're designed for installation on top of existing toilet seats, raising the seat height to make it easier for those with mobility issues or limited strength to sit down and stand up from the toilet. They can also be a good option if you're recovering from surgery.
Non-slip Flooring
We already discussed ensuring you have a non-slip floor in your walk-in shower. Strategically placed bath mats and textured, non-slip flooring in the bathroom will go a long way in preventing dangerous slips and falls.
Proper Lighting
Adequate lighting in the bathroom ensures visibility, reduces the risk of accidents, and promotes a relaxing and enjoyable bathing routine. Proper lighting in your bathroom vanity and shower area allows older adults to see clearly and easily navigate the space and is just a good idea in general.
Whether this is a proactive decision or specifically for individuals in your household with mobility challenges or in need of elderly care, replacing your bathtub with a walk-in shower can create a space that promotes independence and peace of mind.
Cost-Saving Benefits and Return on Investment
While implementing these aging-in-place designs may seem overwhelming, it's important to note that aging-in-place can help older adults stay healthier and save money. When we make changes to our homes to make them safer and more accessible, it can prevent falls and other health problems.
According to the American Society on Aging, these modifications can save us money on healthcare expenses. Investing in aging-in-place solutions improves our quality of life and prevents falls that can lead to expensive medical treatments and hospital stays.
The bottom line: aging-in-place remodeling is a long-term investment that pays off with health and financial benefits.
Built the Right Way
With over 30 years of experience, fully licensed and insured, and a team ready to help you at every step, make your home yours for life with aging-in-place remodeling from RWC.
Get Inspired!
This free download is designed to stimulate your
imagination and help bring your vision to life.