Enhanced Outdoor Living: Porch & Deck Design Ideas
Are you ready to transform your outdoor living space? Choosing between a deck and a porch can be tough, but we're here to help you make the right choice. Whether you prefer a versatile deck or a cozy porch, both provide a wonderful space to relax, entertain, and enjoy the outdoors. Keep reading to discover exciting spring and summer porch and deck design ideas.
How to Choose the Right Outdoor Expansion
You might need help choosing a deck or porch when expanding your outdoor living space. Ideally, it would be great to have both, but that isn't always possible with space and cost constraints. Both options have unique benefits, and understanding the differences can help you decide.
When deciding between the two, consider your needs and how you plan to use the space. If you enjoy hosting outdoor gatherings and want a versatile area, a deck might be the right choice, but a porch might be right for you if you prefer a quieter and more sheltered space.
Other Considerations
You must also consider your budget and the maintenance required for both choices. Decks may require more regular maintenance, given their exposure to the elements, such as staining or sealing. Porches with roofs and pillars require less maintenance but may need occasional cleaning and repairs.
Don't forget to consider your house's design and architectural style when considering the two. Think about which option would blend well with the existing style and enhance the overall aesthetics of your home.
These additional benefits of the two should help your decision as well:
Benefits of a Deck
A deck can be great if you want a versatile space for relaxing, entertaining, or enjoying the outdoors. Decks are typically made with durable materials like pressure-treated wood or composite decking, capable of withstanding different weather conditions.
With a deck, you can add outdoor furniture, a grill, or even a hot tub. It's a perfect spot for hosting barbecues or having fun with friends and family.
Benefits of a Porch
A porch is a covered area at the front or back of your home, typically made with a roof and supported by columns or pillars. A porch can be cozy with a shaded spot to sit and enjoy the fresh air. Unlike a deck, you can also have an enclosed porch that protects you more from the elements and bugs, which is handy during summer.
Porches can be a welcoming entryway to your home, offering a space to greet guests or enjoy the view of your surroundings.
Porch and Deck Planning
Before starting any construction project, it's essential to have a plan. A trusted construction company/remodeling contractor can help you decide which design, size, and materials best fit your needs and comply with HOA regulations, if applicable.
At RWC, we consult with clients regularly to help them determine the best method for bringing their porch or deck ideas to life. A good contractor can take some of the stress and guesswork out of decision-making.
For porch building plans, consider the space available and where you want to locate your porch. Consider if you want a front or back porch and how much coverage you want from the roof. You might also want to decide on the number of columns or pillars you'd like to support your porch and if you want a porch railing.
For deck-building plans, think about the size and shape of the deck. Consider how much space you want for activities like grilling, dining, or relaxing. What features do you want to incorporate? You could consider and implement stairs, railings, or built-in seating. You'll also need to choose the materials for your deck, like wood or composite, based on your preferences.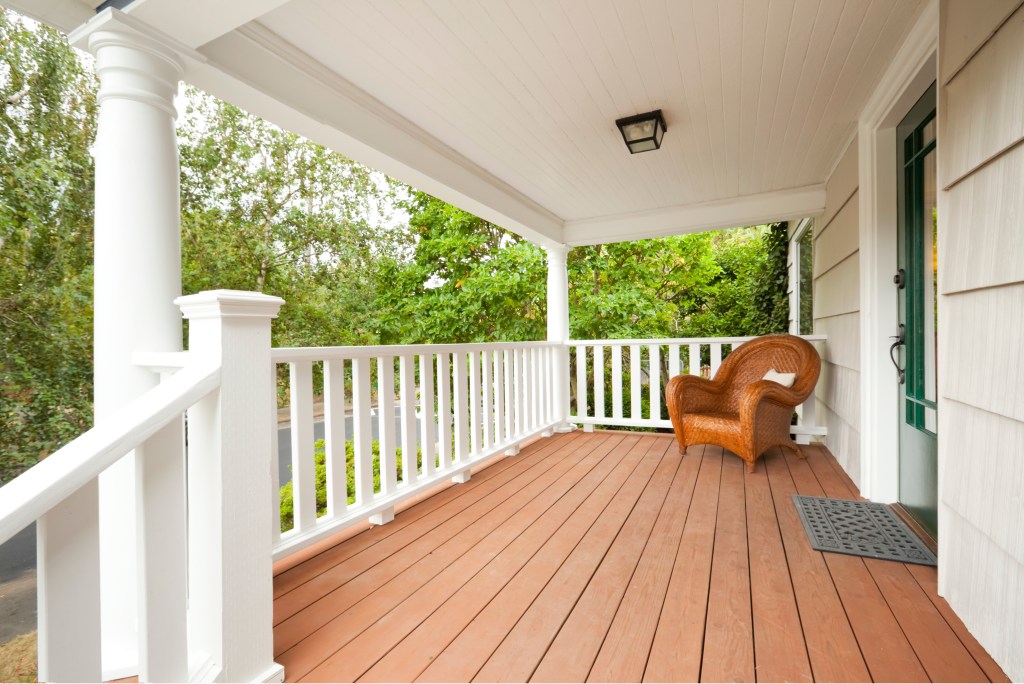 Porch and Deck Design Ideas
If you're looking for inspiration to inform your plans for your porch or deck, we've got you covered with ideas to make your outdoor space even more special. Let's look at a few design options to create an outdoor living space that suits your style and needs.
Covered Front or Back Porch
A covered front porch will greet your guests as they arrive, so consider adding a welcoming porch swing or comfortable chairs where you can sit and greet your guests or neighbors passing by. Hanging plants and colorful flowers will also bring some nature and life to your porch.
Behind your home, an enclosed back porch can become a relaxing retreat with comfortable outdoor furniture. You could add a small table with chairs to enjoy meals or play board games with friends and family. Additionally, consider incorporating soft lighting options such as string lights or lanterns to create a warm and inviting atmosphere for evening gatherings.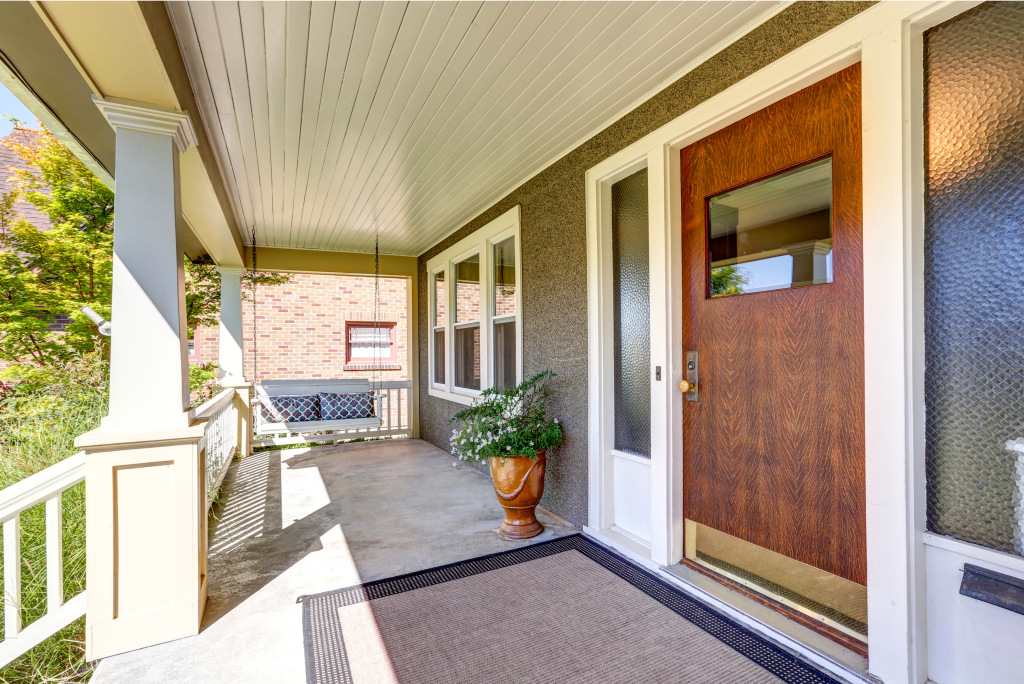 Deck Design
When designing a deck, there are a few things to remember. For starters, do you want a single-level deck or a multi-level one? Your answer will depend on the space available and your preferences. Your contractor can help you decide the most feasible deck design for your home and property.
Railings can be made of wood, metal, or glass, depending on your style preferences. They'll enhance the look of your deck and provide a barrier for children or pets.
Single-level Deck
A single-level deck provides a simple and open area for various activities, such as outdoor dining or sunbathing. It's an excellent choice for a smaller and easier-to-navigate space.
Multi-level Deck
Or, choose a multi-level deck that adds depth to your outdoor area. You can design it with different levels connected by stairs or ramps, and doing so helps you create separate zones for various purposes. For instance, you could have a lower level for lounging or a higher level for a grill and hot tub.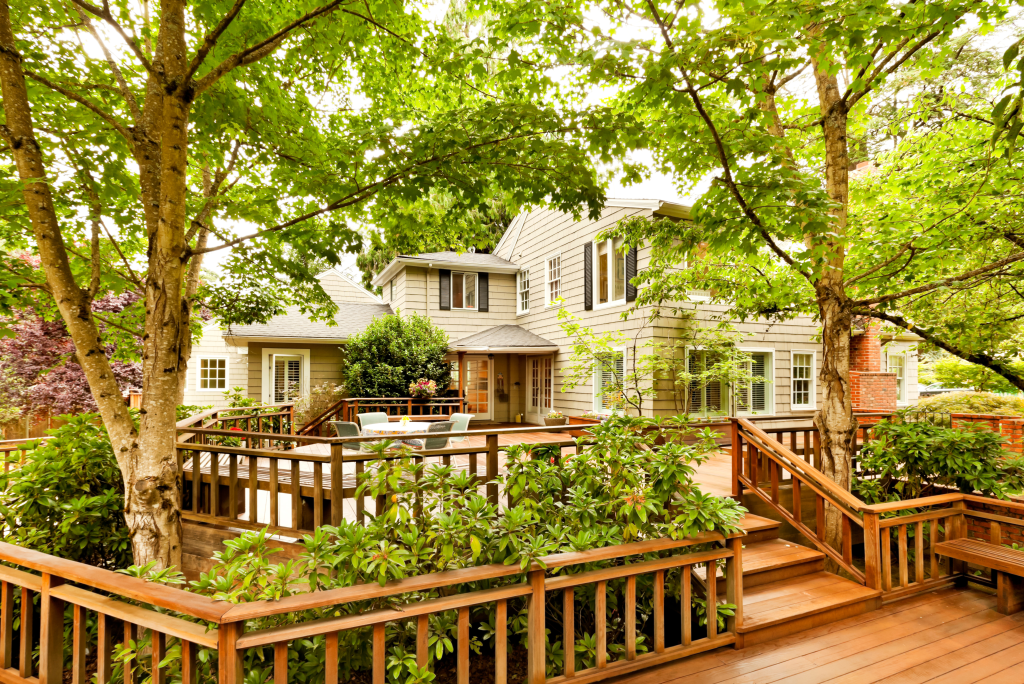 Built the Right Way
With over 30 years of experience, fully licensed and insured, and a team ready to help you at every step, make your outdoor space as welcoming as your indoor space with a new deck or porch from RWC.